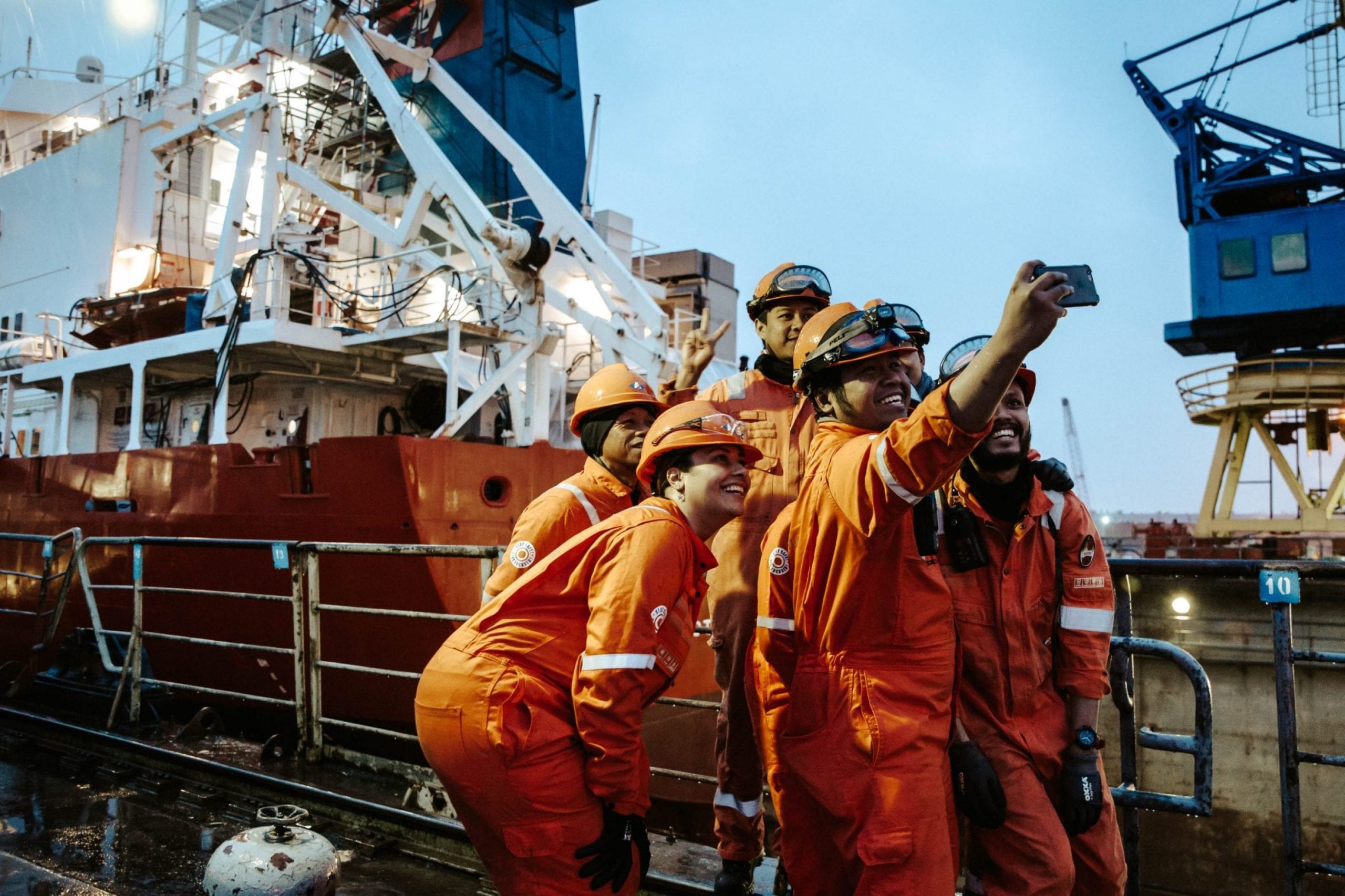 Sustainable growth report 2022
Sustainable growth report 2022

EMISSIONS
This section reports on various types of emissions and various ways of calculating useful indicators regarding these emissions. First funnel emissions and related CII scores are discussed, followed by cargo emissions, refrigerants, other emissions and scope 1,2 and 3 emissions. For reporting purposes, we use the 'Control by contracts' approach.
Funnel emissions
The EU Monitoring Reporting and Verifying (MRV) requires us to monitor CO2. As of 2024, we also need to report N2O and CH4 emissions. Those emissions will be included in the EU-ETS as of 2026. Following this, we included also N2O and CH4 emissions in our reporting.
Our strategy is to become a net- zero emitter by the year 2035, therefore we must take the life cycle emissions of used fuels into account.
Also, to comply with the new Fuel EU directive we need to report on the GHG intensity of our fleet on a well-to-wake basis, as of 2025. This also includes CO2 equivalents for N2O and CH4 emissions, which fall under scope 1 emissions. These figures are presented in the table to the right.
First, we calculated our absolute funnel emissions on a tank-to- wake basis by taking into account the type of fuel used and relevant conversation factors.
We followed the emission factors from the 4th IMO GHG report, as this is the requirement for IMO and EU reporting.
As the IMO has not published figures yet on well-to-tank emissions, we took the emission factors from the EU directive on the use of renewable and low- carbon fuels in maritime transport, amending Directive 2009/16/EC.
We first multiplied the total fuel consumed [gFuel] by the lower heating value (LHV) [MJ/g] to calculate the total energy consumed [MJ].
Followed by the multiplication of the emission factor [gCO2eq/MJ]. Note that these well-to-tank numbers are not yet ratified by EU member states and could change over time, in such case we will amend our reporting accordingly.
Under debate is the amount of methane slip that is calculated in the 4th IMO GHG report. As per the directive we need to take a certain standard of methane slip produced [gCH4/kWh], which is engine type specific (Otto DF medium speed, Otto DF slow speed, Diesel DF slow speed, LBSI).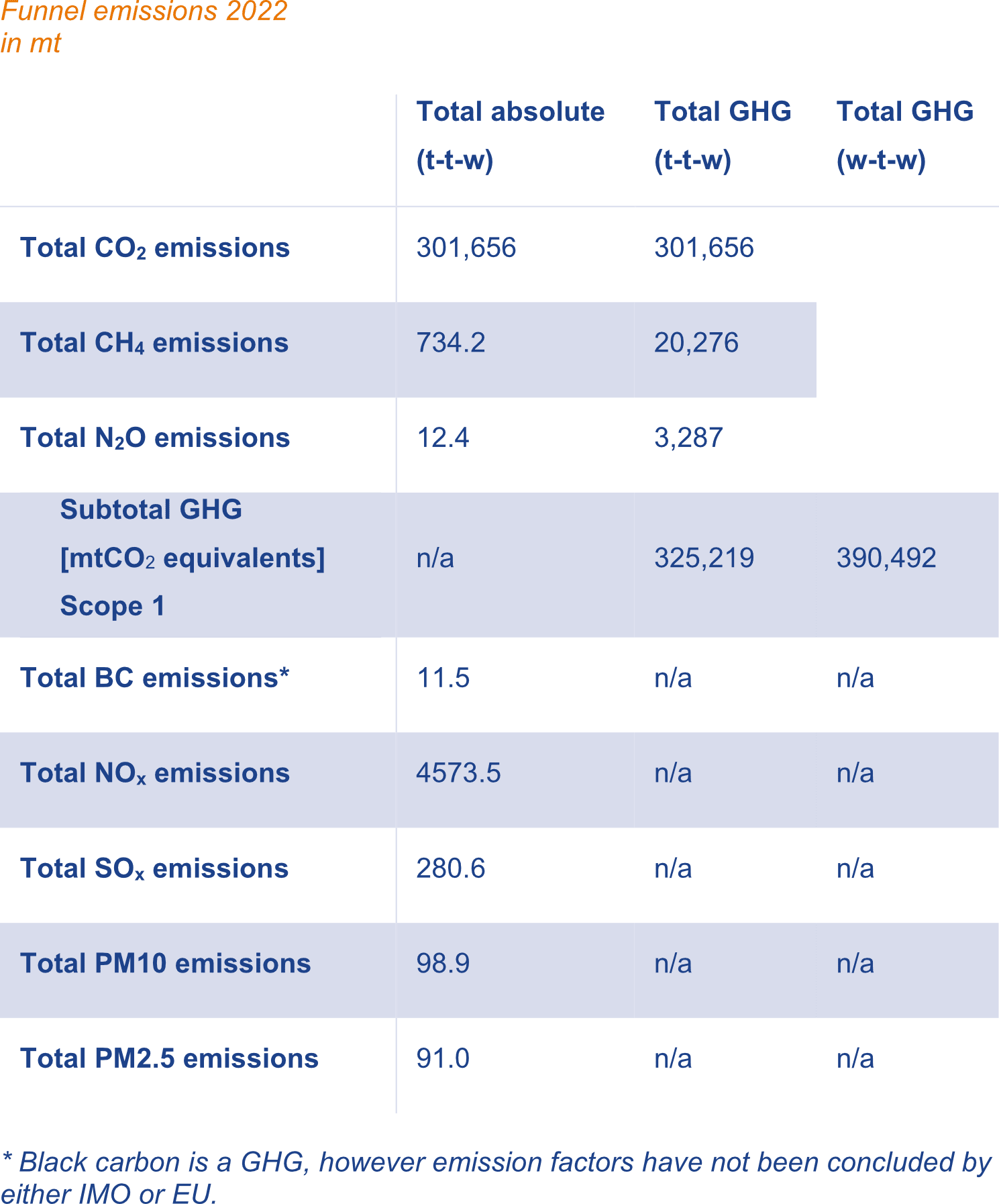 In collaboration with Sea-LNG, SGMF commissioned a study that was conducted by independent specialist consultants Thinkstep (now Sphera) and reviewed by a panel of academic experts on the well-to-wake GHG Emissions Lifecycle.
The results are provided in the report 2nd Life Cycle GHG Emission Study on the Use of LNG as a Marine Fuel. We consider this report to provide a more accurate indication of how to calculate tank- to-wake methane slip from our DF engines.
Using this as a reference, we would have 13,596mt of CO2 equivalents (GHG) due to methane slip over 2022, instead of 20,276 mt.
Also, by using certain fixed conversion rates any (improved) engine-specific methane slip characteristics have not been taken into account.
This is an outdated view in our opinion, as we currently see engines becoming available with significantly better methane slip performances.
As can be read under the chapter 'sustainable projects', we selected such an engine for our newbuild vessel, Coral Evolution. Unfortunately, on a calculative basis by IMO, this will not have any positive impact on our reported GHG emissions over time, whilst in practice this will be the case. We believe that this view under the IMO must change. Whereby the specific engine performance and also the effect of any methane slip abatement technologies installed on board should be recognized.
The operational data of our vessels for 2022 have been uploaded, validated and approved by class to the requirements of IMO DCS and EU MRV.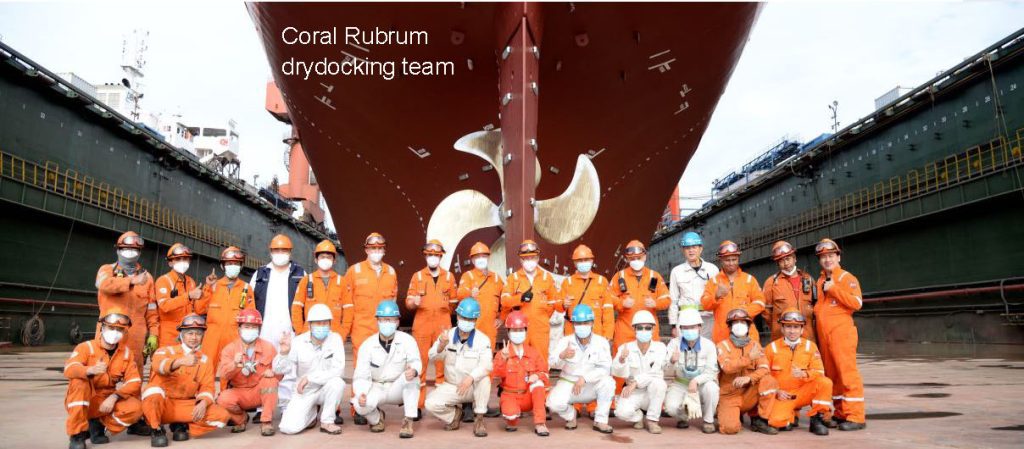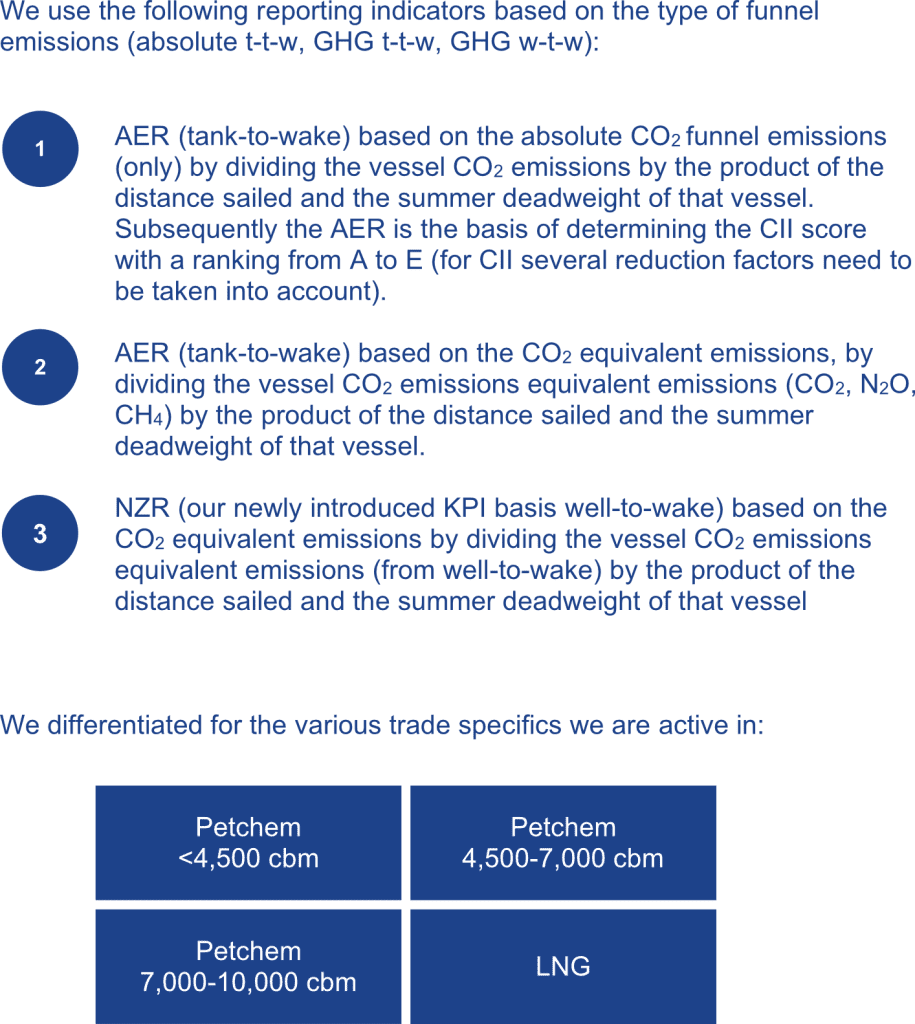 Introducing such reporting indicators, in combination with methane slip abatement technologies, we are convinced that we can further reduce the NZR for LNG-propelled vessels, even more so when bio or synthetic LNG in the future will be used.
The AER depends a lot on the specific vessel trade and the utilisation of the vessel. Any moment that the vessel is not sailing and burning fuel, this will have a negative impact on the AER. To improve the score, it is key to have certain control of our vessels. If improvements are required, we must have discussions with our charterers for optimising the AER.
For vessels under time charter (TC) contracts, the charterers are controlling the whereabouts of the vessel, hence for COA/spot vessels, we are more in control.
To illustrate the difference, find the following graph showing that vessels that are full-time employed under a TC score worse than non- TC vessels. Even most of our LNG-propelled carriers are within the TC full-year group and typically these vessels are larger; for both LNG propulsion as for larger size, you would expect a lower AER.
For some LNG TC full-year vessels, the AER score is lower, however, on average we see that vessels under TC contracts score worse in terms of the AER score, as much depends on the trade specifics. This is also reflected in the CII score, see next paragraph.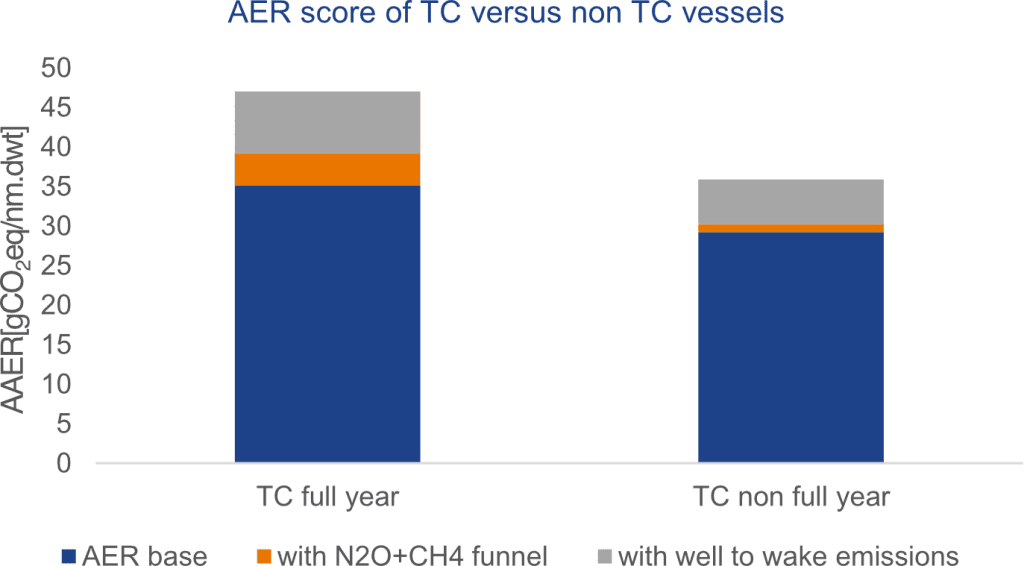 CII scores
To prepare for the CII scores, which will be introduced as from 2023, we have calculated the CII scores of our fleet (under ship management only) for the year 2022.
When calculating the scores, we were not able to take reduction factors for reliquefying our cargo and sailing through the ice into account. Therefore, these scores are conservative.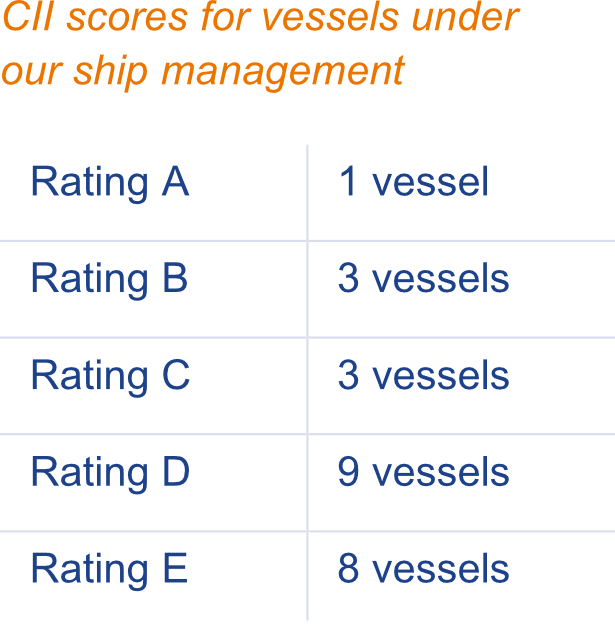 We share the general market concerns about the CII. The CII could distort trading patterns and as an effect, it could lead to higher emissions for some vessels than they would have emitted prior to the regulations in order to improve the rating.
Also, to improve our overall rating, we should be able to share the responsibility of a good ranking under Time Charter vessels with our charterers. (Bunker) vessels, spending the most time in port should be exempted in our view, because of the long idle time, and these vessels play a vital role in the bunkering infrastructure.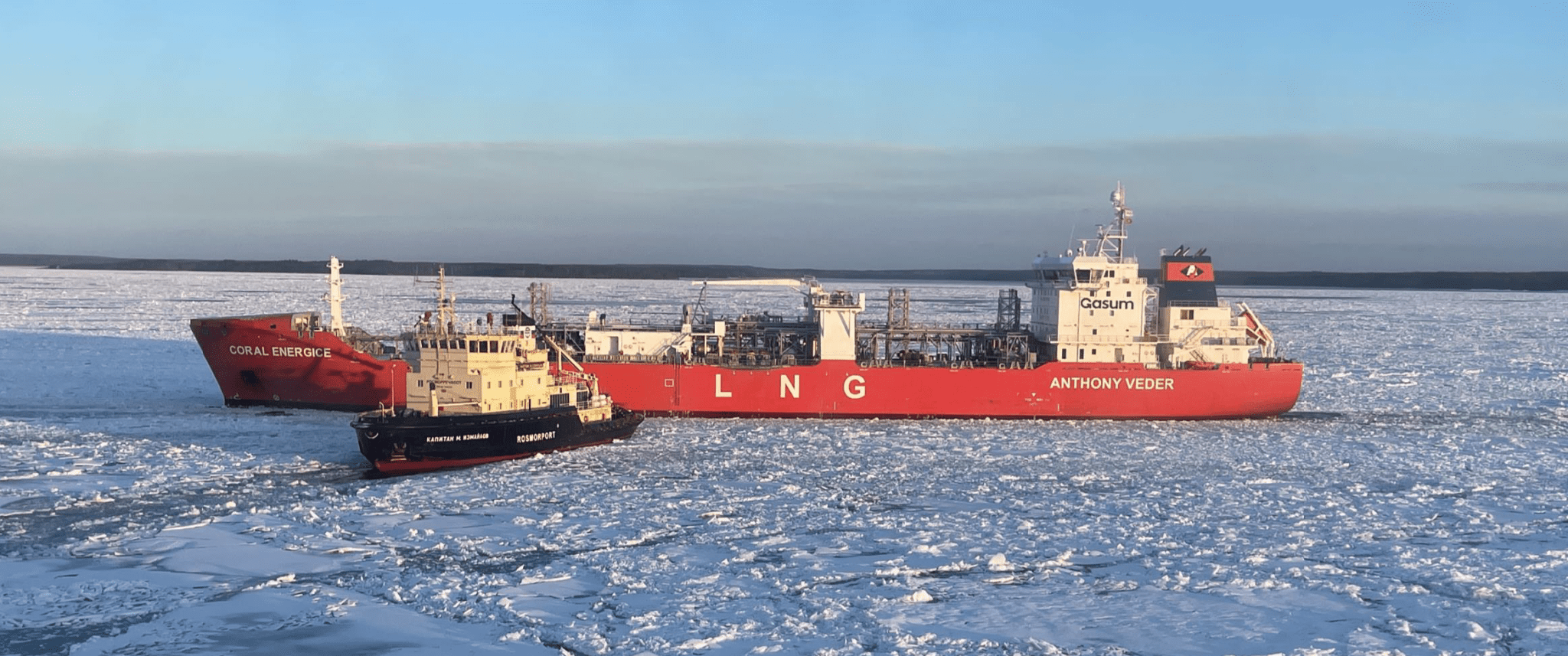 Cargo emissions
Due to drydocking, yard stay of the vessel and cargo grade changes occasionally we need to purge our vessels. On every occasion, we evaluate whether purging is necessary and how we can limit vapours to the atmosphere.
If we cannot discharge the cargo, the next best thing is to flare our cargo. As this is not always possible, direct cargo vapours end up in the atmosphere. A total of 45 purging operations have been performed in 2022.
We record absolute emissions and have converted these figures to GHG (tank-to-wake) by using conversion factors from IMO 4th GHG Study Report and EU regulation on fluorinated greenhouse gases and repealing Regulation (EC) No 842/2006. See the table at the right for an overview.
In the other table, we show how much of the cargo that we have transported is purged or vented, which we aim to decrease by 25% in 2025. Flaring is not included here, as explained above, it is the next best thing to venting or purging.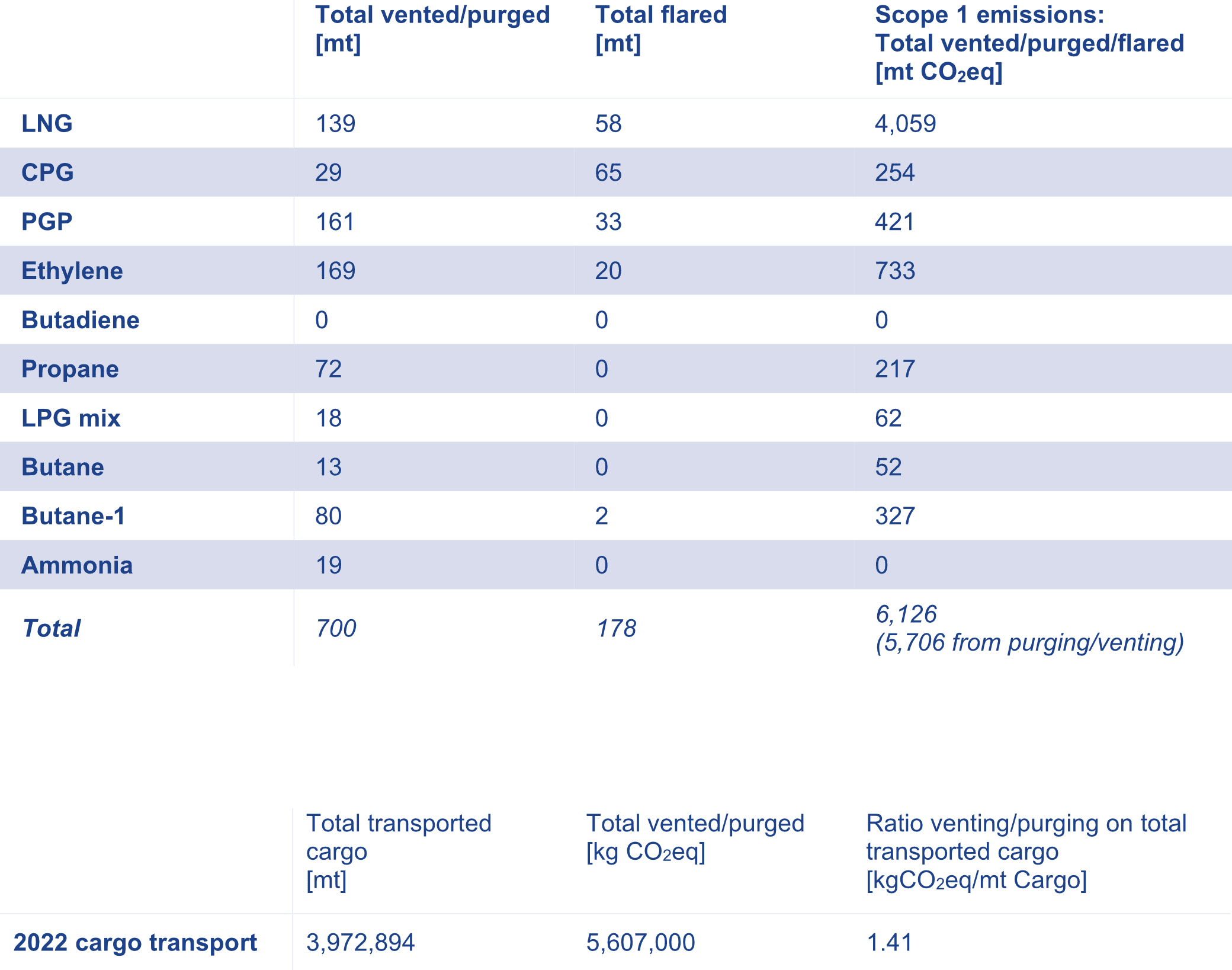 We specifically aim to prevent any LNG from going into the atmosphere as the main component is methane with a high GWP, 28 higher than CO2. Only occasionally the cargo tanks of LNG carriers need to be purged, e.g., when going to drydock or yard stay.
In such case we aim to get rid of the ROB (Remaining On Board) LNG by using a flare at a terminal, however, these are not widely available and regulations on land become more stringent making it more and more difficult to obtain the necessary permits. In one purging case, there was no flare available, fortunately, our customer allowed us to spend some extra time trying out different means of purging.
We were able to find a solution by using the GCU on board (normally for purgings the capacity is too low). Although we had to burn more MGO, by comparison to CO2 equivalents, our emissions were significantly lower than when LNG remaining in the tanks was vented to the atmosphere.
To limit vapours to the atmosphere, one of the conclusions from our perfect purging project is that we need a constant flow of nitrogen or cargo.
Many of our purgings for cargo grade changes in our petchem fleet, we perform at Rafnes.
Quite often we noticed an unstable flow of vapours from the terminal and continuously changing backpressure from the shore flare, causing difficulties for the gassing- up operation.
By discussing the situation with the terminal, we were able to improve the situation, resulting in a lower environmental impact from our purging operations.
Next to the funnel emissions, we have included purgings/venting and flaring in our emission overview. In the case of purging and venting, the cargo goes into the air. With flarings, the emissions are burned, and therefore the chemical composition changes, and will have a different emission factor than when going directly in air.
Refrigerants
In the cool plants and HVAC systems of our vessels, we use all kinds of refrigerants. Some refrigerants have a very high GWP.
Our aim is de nihilate the filling of refrigerants by leak detection. The table provides an overview of tonnes of refrigerant refilled, and its impact by GHG in tonnes CO2 equivalent for which conversion factors used are based on Climate Change (IPCC) fourth assessment report, 2007 (AR4).
Other emissions
Other emissions include ballast water, spills to water, waste, incinerator usage, anti-fouling usage, stern seal leakages, chemical usage and noise.
Currently, we are not tracking these emissions and we are aware that this needs improvement. With the implementation of digital logbooks, we aim to get more information on such emissions.
On noise we have been taking action to improve the quality of life on board by reducing noise levels.
Read this article by Jan and Steel on noise reduction on board Coral Patula
Food
Our food and beverages are supplied by an external company. In 2022 we had the following impact on the environment:
• CO2: 1,161 mtCO2 equivalent,
which is part of our scope 3
emissions.
• Plastic: 4,860 kg • Carton: 9,126 kg • Tin: 270 kg
Office consumption
The office is connected to district heating network in Rotterdam. Therefore, we consume hot water for heating.
Of this supplied hot water, 88% is produced with renewable energy and 12% is not.
Total energy usage: 746.44 GJ • CO2: 13.7 mtCO2 equivalent
(scope 2 emissions).
• Electricity: 159.097 kWh
(100% renewable).
• Water usage: 420 cbm.
Air travel
Emissions resulting from air travel have increased after COVID-19 restrictions were lifted. Despite this, we have learnt that video conferencing is a workable alternative for business travel, as is travelling by train for distances less than 700km.
Our CO2 emissions on flights with Air France, KLM and Delta Air Lines have been compensated via the earned Bluebiz program. Per ton CO2, a fixed amount of € 8.50 is paid and credited via the blue credits.
Emissions from air travel: 4252.56 tCO2equivalent (100% compensated by the Bluebiz program), this falls under scope 3 emissions.
Scope 1, 2, and 3 emissions
From a broader perspective, these are the emissions generated by our company which have an impact on the environment.
When we specifically look at the GHG emissions we can make a distinction between scope 1, 2, and 3 emissions, as presented in the table.